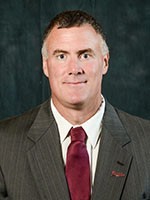 Dan Hunt continues to create positive energy around the Colgate football program.
Hunt in his three years as Colgate's Fred '50 and Marilyn Dunlap Head Football Coach has overseen a 13-5 record against Patriot League competition, including a perfect run to the 2015 championship. His overall mark of 19-17 has come against some of the healthiest nonconference competition of any team on the Football Championship Series level.
During the most recent offseason, Colgate Athletics completed installation of a new playing surface on Crown Field at Andy Kerr Stadium, renovation of the football locker room, construction of a new team meeting area, and construction of a new academic enhancement center.
Hunt in 2015 guided Colgate to its second-best postseason in history. The Raiders won a Patriot League championship and then won twice in the NCAA playoffs to finish among the top eight teams in the FCS.
Hunt was named Coach of the Year by both the ECAC and the Patriot League, and was a finalist for national honors. He guided the Raiders to a perfect 6-0 conference record for their eighth Patriot League title.
Colgate finished 9-5 overall after being picked third in the 2015 Patriot League preseason. The Raiders were rewarded with final national ranking of 13th in the FCS Coaches Poll and 17th in the STATS FCS Poll.
In 2016, Colgate set a program record and led the nation by allowing just 69.4 rushing yards per game. Pat Afriyie closed in on the career sacks record, was a multiple All-American recipient and earned the Patriot League's Defensive Player of the Year, while Abu Daramy-Swaray took home Patriot League Rookie of the Year and Hero Sports Freshman All-America honors.
Jake Melville finished fourth all-time in total offense at Colgate, fourth in passing yards and 13th in rushing, while John Maddaluna III finished fifth in career receptions and sixth in receiving yards. Placekicker Jonah Bowman graduated as the all-time Colgate record-holder for field goal percentage and graduated second in made field goals.
Hunt served 19 seasons as a Colgate assistant coach from 1995-2013, the last 18 under previous head coach Dick Biddle. The Biddle-Hunt combo produced seven Patriot League titles, and Hunt in 2015 matched his mentor by winning his first championship in his second season – just as Biddle did in 1997.
For a program celebrating its historic 125th season of football, Colgate's 2015 edition under Hunt breathed some rarified air as just the ninth football team in Colgate history to get to nine wins. The Raiders reached nine victories after becoming the only team in the 2015 playoff field to post back-to-back road wins – 27-20 at New Hampshire and 44-38 at No. 5 James Madison.
Only Colgate's 2003 national championship finalist had a better postseason run than this year's edition, and that includes every Patriot League football program in history. The 2003 and 2015 Colgate teams are the only Patriot League squads to compile multiple victories in the same playoff run, and Hunt is one of the common denominators.
Hunt in his three seasons has coached 11 different players to 14 All-Patriot League First Team certificates, and 25 players have earned a combined 34 first or second team selections. Five Raiders have been named to the ECAC FCS All-Star Team, including Afriyie on two occasions.
Hunt also has placed six student-athletes on the elite Academic All-Patriot League Team, which honors those who excel both on the field and in the classroom. Bowman earned the distinction twice in his four seasons.
Colgate introduced Hunt to succeed Biddle as its 29th head football coach in December 2013.