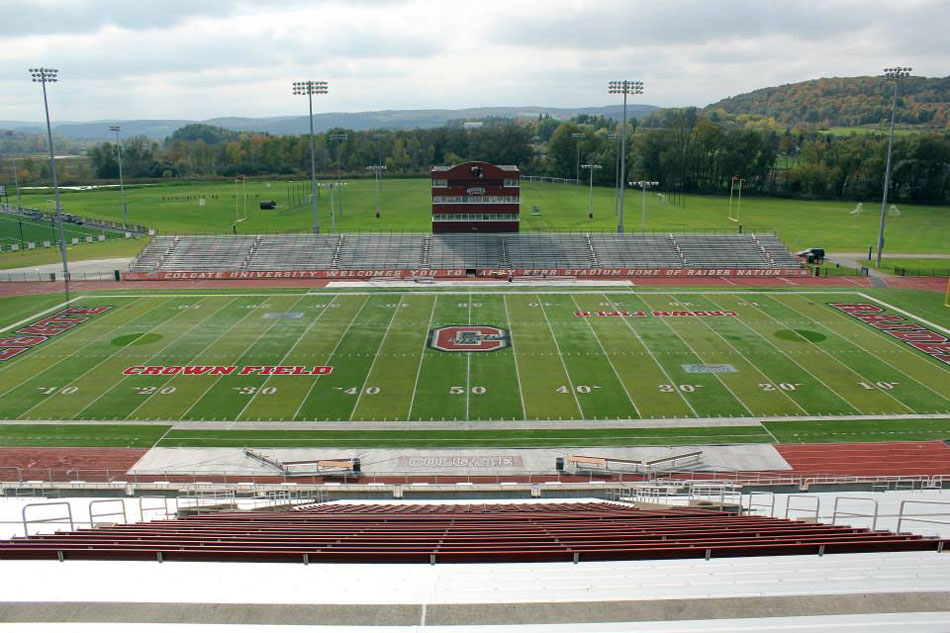 Crown Field at Andy Kerr Stadium
Crown Field at Andy Kerr Stadium is home to the Colgate football and men's lacrosse teams.

It has a capacity of 10,221 in a combination of chair-back and bench seating in the Frederick H. Dunlap stands on the home team, east side of the complex, and bleacher seating on the visitor team, west side of the complex. With tailgating in the Maroon Council lot behind the stands and a spirited crowd of students, faculty, staff, alumni and friends, Crown Field at Andy Kerr Stadium is an ideal setting for enjoying the best in college athletics and what it represents.

The previously unnamed football field was dedicated Andy Kerr Stadium on Sept. 17, 1966, during halftime of a 34-0 victory over Boston University. With Andy Kerr in attendance that day, the crowd was reminded of his many achievements. He served as head coach from 1929-46, and during the 1929-34 period his teams went 47-5-1. His 1932 squad was the "Unbeaten, Untied, Unscored Upon and Uninvited" team that famously did not receive an invitation to the Rose Bowl game in Pasadena, California.

The stadium has been renovated and updated through the following major projects:

-- The Frederick H. Dunlap stands dedicated Oct. 12, 1991, in honor of Fred Dunlap '50, Colgate Director of Athletics and head football coach between 1976-87.

-- Lights installed during the summer of 1997.

-- The R.L. Browning '37 Track dedicated Sept. 5, 1998.

-- The three-story Lahar-Abeltin Press Box dedicated Oct. 17, 2003, above the west stands. Harold W. Lahar was head football coach from 1952-56 and 1962-67. Robert Abeltin '77 played football for the Raiders during 1975 and 1976.

-- The Daktronics scoreboard dedicated Sept. 16, 2006, at the north end of the stadium. It was funded in recognition of Gordon O. Watson '62 for his tireless efforts on behalf of Colgate football, his long leadership of Maroon Council, and his love of the university. The scoreboard is 40 feet tall and 70 feet wide, with a video screen 12 feet tall and 21 feet wide.

- FieldTurf laid in the summer of 2007.

Lacrosse alumnus Michael Crown '10 and his parents, Steve and Nancy, are responsible for the addition of lights and FieldTurf at Andy Kerr. In recognition for their generosity and longstanding loyalty to Colgate and the athletics program, the field was named for the Crown Family in 2014.

In 2007, Andy Kerr Stadium was the site of one of the biggest men's lacrosse victories over then-undefeated Syracuse -- 12-11 in the final game of the season.